It seems like right now in the outdoor industry, we are constantly hearing the word "insta-famous". Urban dictionary defines this as a person "gaining a mass amount of followers on the Instagram app so that you become bit of a celebrity on the app." This term is almost always used towards females. There is so much controversy on this topic. While I have my own opinions on this, can we all agree that it is getting a little old? So, I decided to coin my own term…"insta-friends". Now, let me explain.
I grew up loving the outdoors. I hunted and fished with my dad from a young age. However, I was involved in a lot of other activities…. horses, sports, gymnastics, dance, and school activities. I started getting more involved in hunting during college. When I started dating my husband, he introduced me to archery and shotgunning. It was not until then that my passion for the outdoors turned into an obsession.
I have never had many girlfriends that enjoyed the outdoors like I do. For years now I have always been the only girl at camp or in the duck blind. It has never bothered me, but I have wondered what it would be like to have another girl there.
This past year, I went on my first girls outdoor adventure. We went on a fishing trip in Arkansas. I was super nervous. I had met all of these girls through social media, and only one of them in person. There were 9 of us…NINE girls. I'm sure people thought we were crazy and were waiting to hear about all the drama. Well, there was NONE. It was truly one of the greatest experiences. Everyone got along effortlessly. We helped and encouraged one another. We were INSTA-FRIENDS. This new term has a couple meanings for me. I felt a connection with each of these girls and almost instantly considered them friends. The other meaning is of course because of how we met…social media.
Another awesome trip this past year also took place in Arkansas, but this time for a girls duck hunt. This was a different group of girls, but the same scenario. No drama, no negativity; just a group of girls hanging out and doing what we love. We told stories, had call lessons, hair braiding sessions, and laughed constantly….all while in the duck blind.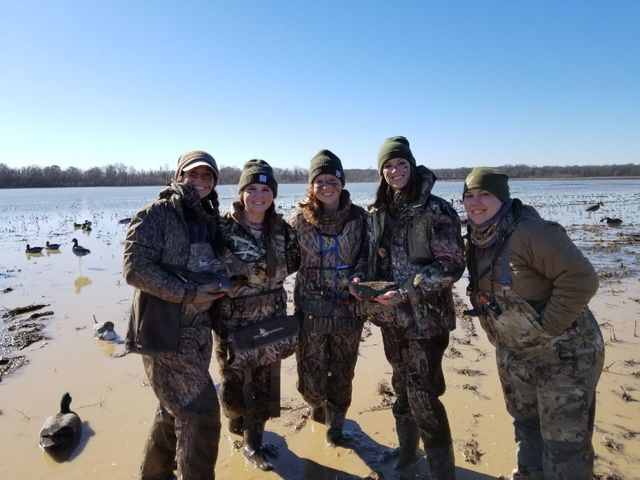 One highlight from our trip was the moment we found out that we had some new jewelry in the blind. Most of us had never gotten a banded duck, or had even been in the blind when someone else had. We had discussed this several times and, of course, been keeping an eye on all the ducks legs. A single drake mallard came in and all of us shot. When the dog made it back with the duck, Jason, our guide, held his leg up. We all exploded! I am sure the people in the next county heard us. By the looks of that duck, we had all gotten a little piece of him. I am sure there has been a lot of arguments between grown men over a duck band. However, we were all so excited for one another and it was a big celebration. We drew shells for who would keep it and the rest of us are going to have replicas made. I have so many memories from that hunt that I will cherish forever.
These days social media can be such a negative thing. However, because of it, I have gained friendships that will last a lifetime.
- Lauren Cole